Rooms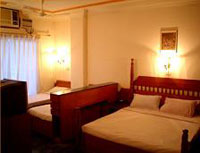 Specifications
Flooring: Marble stone with wall to wall carpet. Walls: Painted walls with modif work on walls. Ceilings: Painted with cornices in wood or P.o.P. Balcony: Terracotta colored tiles in flooring. Door & Windows: External aluminum, hardwood(p.u. coated). Electrical: Internal conduit wiring with modular switches and electrical fittings. Plumbing: P.V.C waste pipes and G.I pipes for hot & cold water supply. Toilets: Designer glazed tiles up to 7'-0" ht., c.p fittings, wall hanging w.c and counter wash basin.
Thank you for your interest in our rooms. All of our residential options are constructed with the utmost care given to qualtiy and detail.
Each room has Beds with side tables (complete with linen), Study/Dressing table with chair, Wardrobe, Color television with remote, Window AC, Refrigerator, Fans, Geyser, Provision for pantry cabinet (Optional), Antique Lights, Sofa and Extra Beds(Optional).
We currently offer following kinds of fully furnished rooms:
Deluxe Room - Can accommodate two adult
Super Deluxe - Can accomodate four adults
Executive Suite- Can accomodate four adults
Please click on the links below for more information about Ownership Schemes or Reserving a room.